Wooler Arts Summer Concerts 2023
Wooler Arts Summer Concerts 2023
After a very successful 2022 season we can now look forward to our 2023 concerts.
What is it about the power of music and the experience of hearing it live that never ceases to move us? Music is about expressing feeling through sound, through musical sound: it can echo human emotions, embody dreams, be visionary or spiritual, or physically exciting and dramatic. And, we all have our favourite songs and tunes which, with great chords and accompaniment, become unforgettable companions. After the Solem Quartet's concert, one member of the audience said……"Well, it was quite serious, but I was moved elsewhere." What a fantastic reaction, summing up the power of music to transport us to another place.
It is my intention to bring you the best musicians in programmes that are interesting and a little out of the ordinary. The level of performance of our 2022 artists was truly international and their concerts would not have been unusual in venues in major cities across the world. And here they were, playing for us in Wooler!
The 2023 season of Summer Concerts promises four more exciting concerts of the same high standard. The range of music is wide, from the Baroque period to contemporary music and taking in a range of styles that include jazz, gypsy and folk along the way. All concerts take place in St Mary's Church, Wooler.
TICKETS WILL GO ON SALE EARLY IN 2023
John Casken
Artistic Director
Wooler Arts Summer Concerts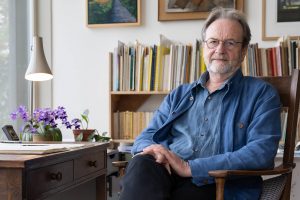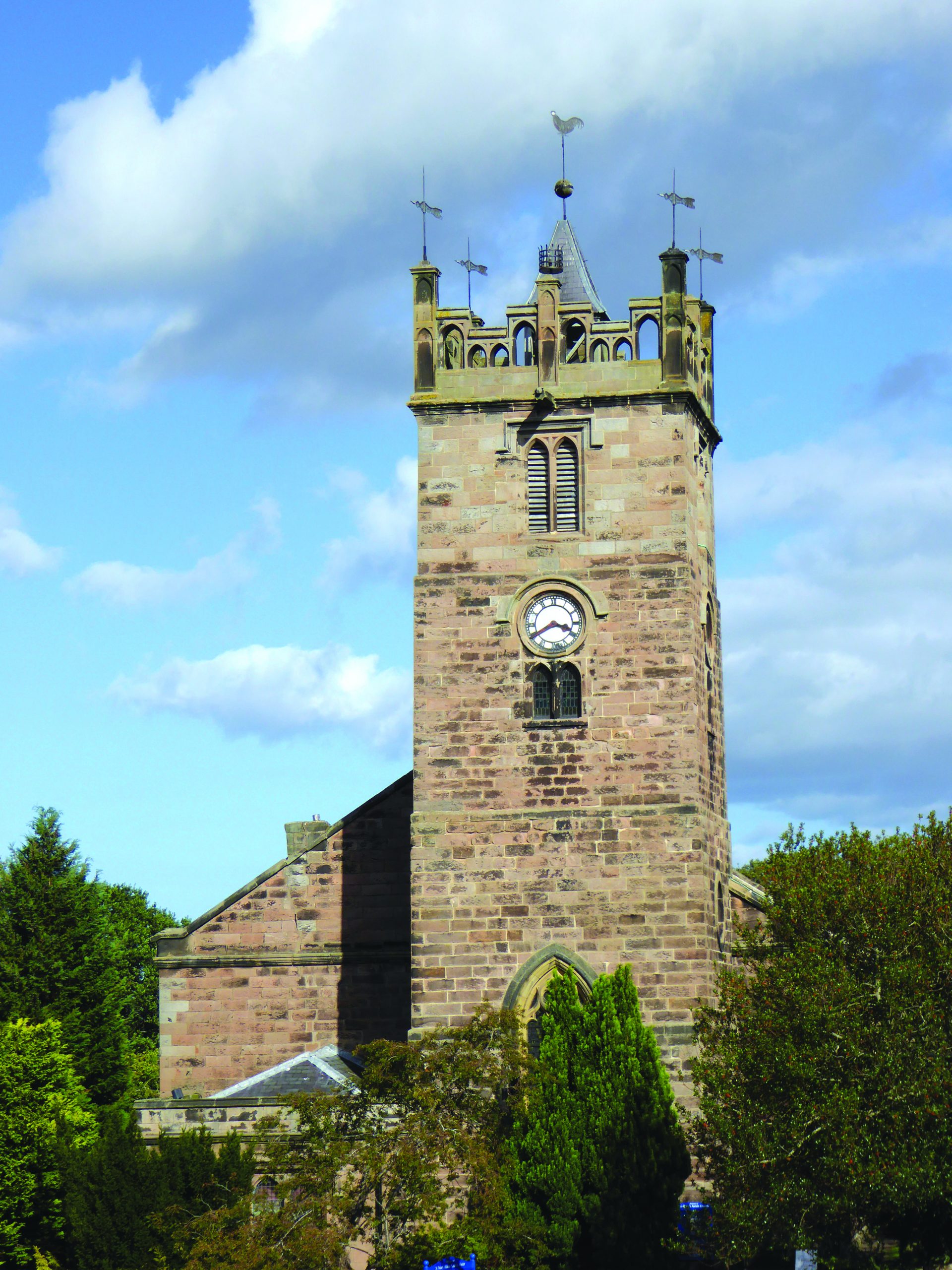 SATURDAY 20 MAY 7.30PM
Mishka Rushdie Momen (piano)
| | |
| --- | --- |
| Beethoven | Sonata in C sharp minor, Op. 27 No.2 |
| | (Moonlight Sonata) |
| Brett Dean | Prelude and Chorale |
| Bach | Preludes and Fugues (tbc) |
| Rameau | Suites in D major and E minor |
| Ravel | Miroirs (tbc) |
| | Le Tombeau de Couperin |
| | |
| Interval | |
| | |
| Schubert | Sonata in D major, D.850 |
This is a welcome return of a remarkable young pianist who created a sensation when she played in Wooler in September 2021. Her programme is an interesting set of pairings. Mishka begins with Beethoven's famous Moonlight Sonata and ends her recital with Schubert's late, great D major Sonata D.850. In between she pairs Preludes and Fugues by JS Bach with Brett Dean's Bach-inspired Prelude and Chorale,  and follows Rameau's Suites in D major and E minor with music from Ravel's Miroirs  and Le Tombeau de Couperin.
Mishka Rushdie Momen was the Times Arts Critics' chosen nominee in the field of classical music for their 2021 Breakthrough Award, given by Sky Arts and the South Bank Show, who profiled her for an episode of the programme broadcast in July that year. She appears in recitals and concerto performances worldwide, and Sir András Schiff has presented her in recitals in Zurich Tonhalle, 92Y in New York City, deSingel Antwerp, and other venues across Europe.
"Mishka Rushdie Momen plays the piano extraordinarily well, but it is the purity and depth of musical feeling that impress me most. She has the rare ability to communicate the essential meaning of whatever she plays."
Richard Goode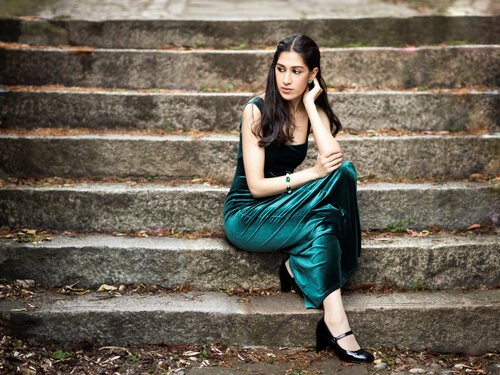 SUNDAY 28 MAY 3.00PM
Tim Kliphuis Trio
| | |
| --- | --- |
| Tim Kliphuis | violin |
| Nigel Clark | guitar |
| Roy Percy | double-bass |
The Dutch virtuoso violinist Tim Kliphuis brings an infectious and uplifting concert with fellow members of his trio, Nigel Clark, guitar, and Roy Percy, double-bass, to perform a delicious cocktail of jazz, gypsy, folk and classical music. It will be a perfect afternoon of foot-tapping music, so come along and expect some familiar tunes to welcome the arrival of summer.
An invitation to the Richard Strauss Festival in Germany marked the start of the Tim Kliphuis Trio whose mission is a 'total music' without stylistic barriers. They performed for the Dutch King at the Amsterdam Concertgebouw, curated the world fiddle night at Celtic Connections Glasgow, celebrated Stéphane Grappelli at the Django Reinhardt Festival in Samois-sur-Seine and have shared the stage with Les Paul, Richard Galliano, Frankie Gavin, Martin Hayes and Daniel Hope. The Trio have collaborated with the Netherlands and Tallinn Chamber Orchestras, The Hague and Cape Town Philharmonic and Sinfonietta Amsterdam and toured America, South Africa and Russia.
"Impressive and moving"
The Strad Magazine
"Playfully inventive and technically brilliant"
Time Out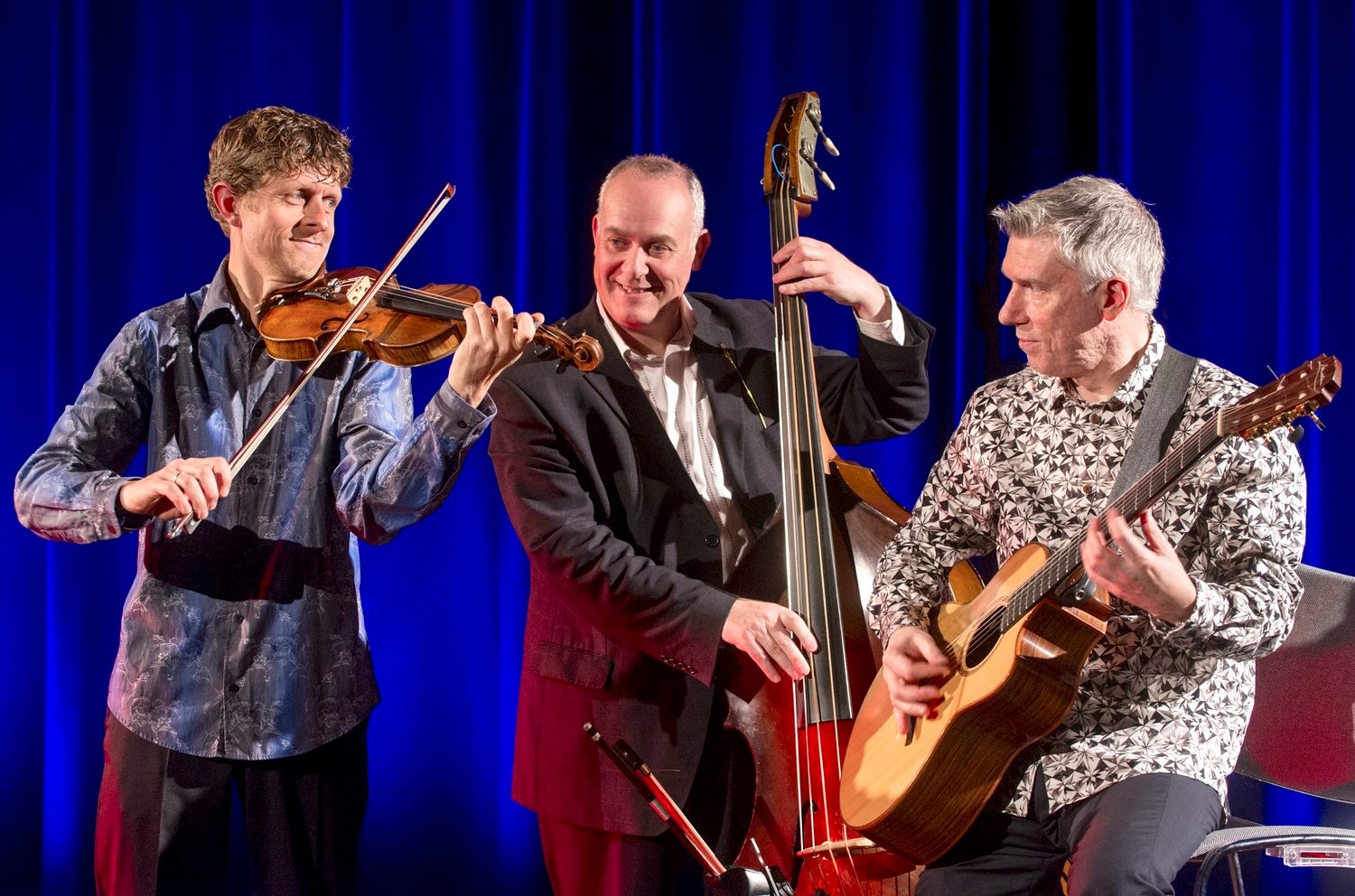 SATURDAY 10 JUNE 7.30PM
The Aglica Trio
| | |
| --- | --- |
| Carys Gittins | flute |
| Agnieszka Żyniewicz | viola |
| Lise Vandermissen | harp |
| | |
| --- | --- |
| Arnold Bax | Elegiac Trio |
| William Mathias | Zodiac Trio: Pisces, Aries, Taurus |
| Debussy | Sonate pour flûte, alto et harpe |
| | |
| Interval | |
| | |
| Hilary Tann | From the Song of Amergin |
| Toru Takemitsu | And Then I Knew 'twas Wind |
| Miguel del Aguila | SUBMERGED |
Of all trios of musical instruments, that of flute, viola and harp is perhaps the most exotic and unusual. The major work in this repertoire is Debussy's late Sonata, and its soundworld is complemented perfectly by the Japanese composer Toru Takemitsu whose dreamy and beautiful sonorities will sound completely magical in the acoustic of St Mary's Church. It is also a great pleasure to be able to programme music by the Welsh composer William Mathias and the English composer Arnold Bax. Hilary Tan is also Welsh, and now based in the USA, and Miguel del Aguila is a Uruguayan-born American composer whose energetic music reflects his South American heritage.
The Aglica Trio's name derives from the Christian names of its three performers, the Polish viola player Agnieszka Żyniewicz, the Belgian harpist Lise Vandermissen, and Welsh flautist Carys Gittins. This young trio came together while studying at the Guildhall School of Music and Drama in London and have performed in concert halls across the UK and in Europe.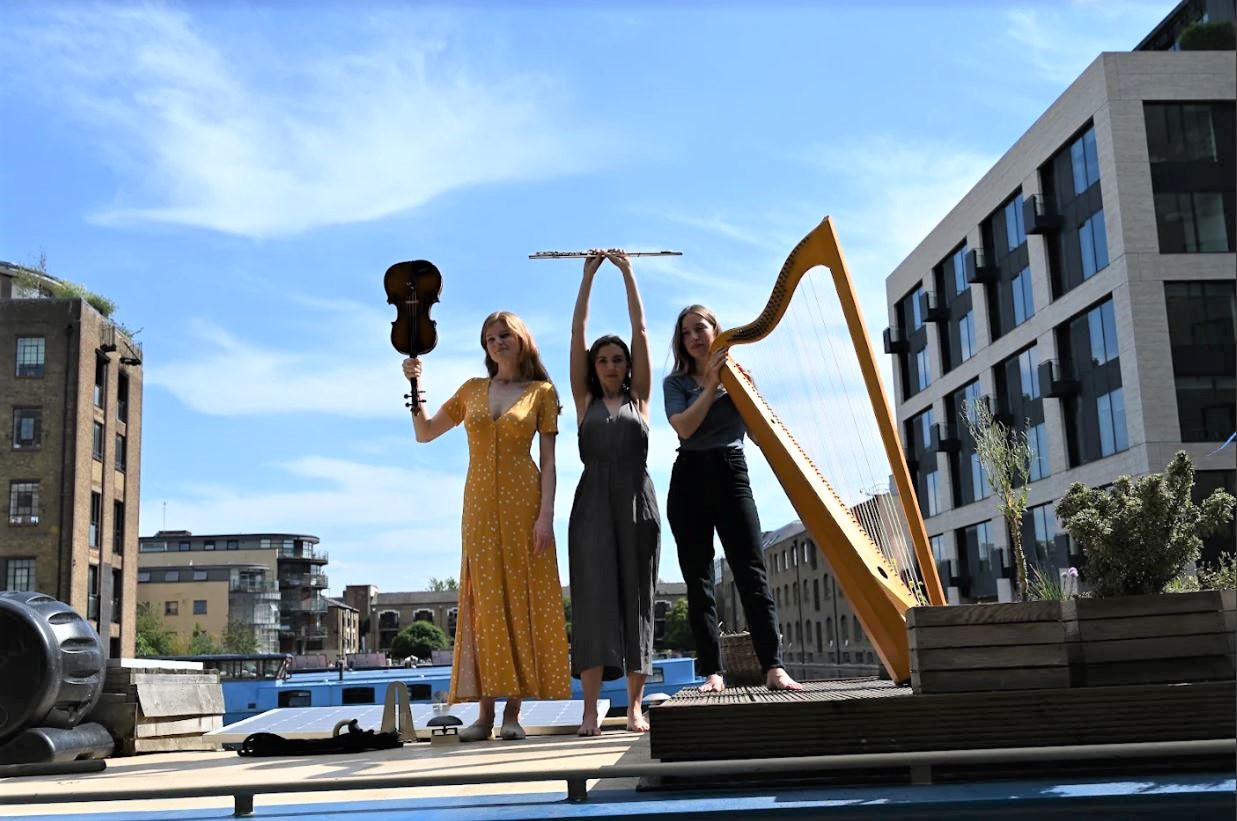 SATURDAY 17 JUNE  7.30PM
Gould Piano Trio
| | |
| --- | --- |
| Lucy Gould | violin |
| Richard Lester | cello |
| Benjamin Frith | piano |
| | |
| --- | --- |
| Schumann | Piano Trio in F major Op.80 |
| John Casken | Lust of Roots |
| | |
| Interval | |
| | |
| Ravel | Piano Trio |
The Gould Piano Trio is one of the very best piano trios working in the UK today and also one with a strong international reputation. They have given many broadcasts and recorded a significant number of CDs, and are well-known locally as artistic directors of the Corbridge Chamber Music Festival. Their concert opens with one of the most ravishing works ever written, Schumann's Piano Trio No.2, whose slow movement is heart-stoppingly expressive.
John Casken was privileged to have his first Piano Trio recorded by the Gould Piano Trio and when he offered them a new one, this relationship continued and developed. They will premiere Lust of Roots at the Buxton International Festival in July 2022. The title draws on a comment by DH Lawrence but relates specifically to the poet Kathleen Raine's 'Northumbrian Sequence'.
We could not have a better end to the series than Ravel's glittering and energetic Piano Trio, with its joyful waterfalls of notes, hypnotic and haunting melodies, and music that fizzes with sheer energy.
"The only comparison that comes to mind is the old Beaux Arts Trio; the combination of jeweller-like precision and a musical fire that ignites from the first bar."
The Washington Post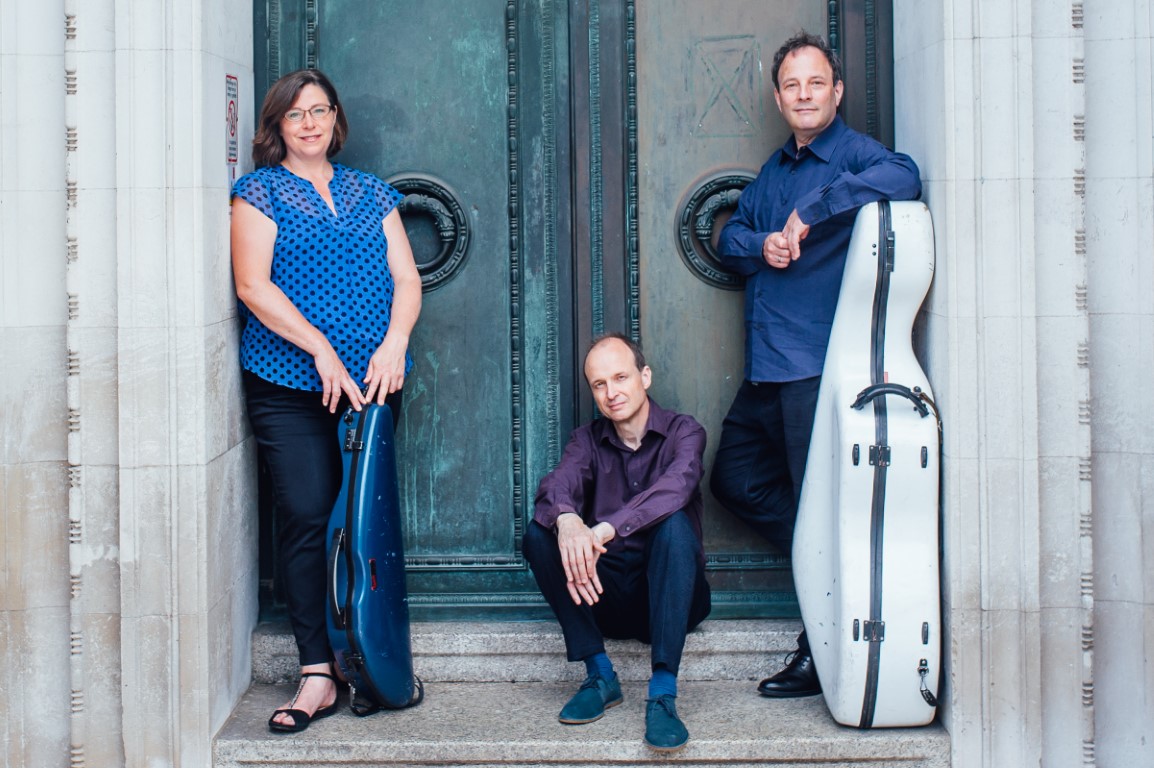 Summer Concerts 2022 Programme
The Summer Concerts in 2022 once again featured major international artists in another wide-ranging programme.
We opened with the world-class piano playing of Steven Osborne, then the irresistible and brilliant duo of Chris Stout and Catriona McKay in their own distinctive and original take on traditional folk music. Another duo, O Duo made the walls of St Mary's reverberate with exciting percussion music and they also held a popular Family Percussion Workshop in the afternoon of the concert. We closed with a young, prize-winning British string quartet, the Solem Quartet, who have already made a big impression on audiences.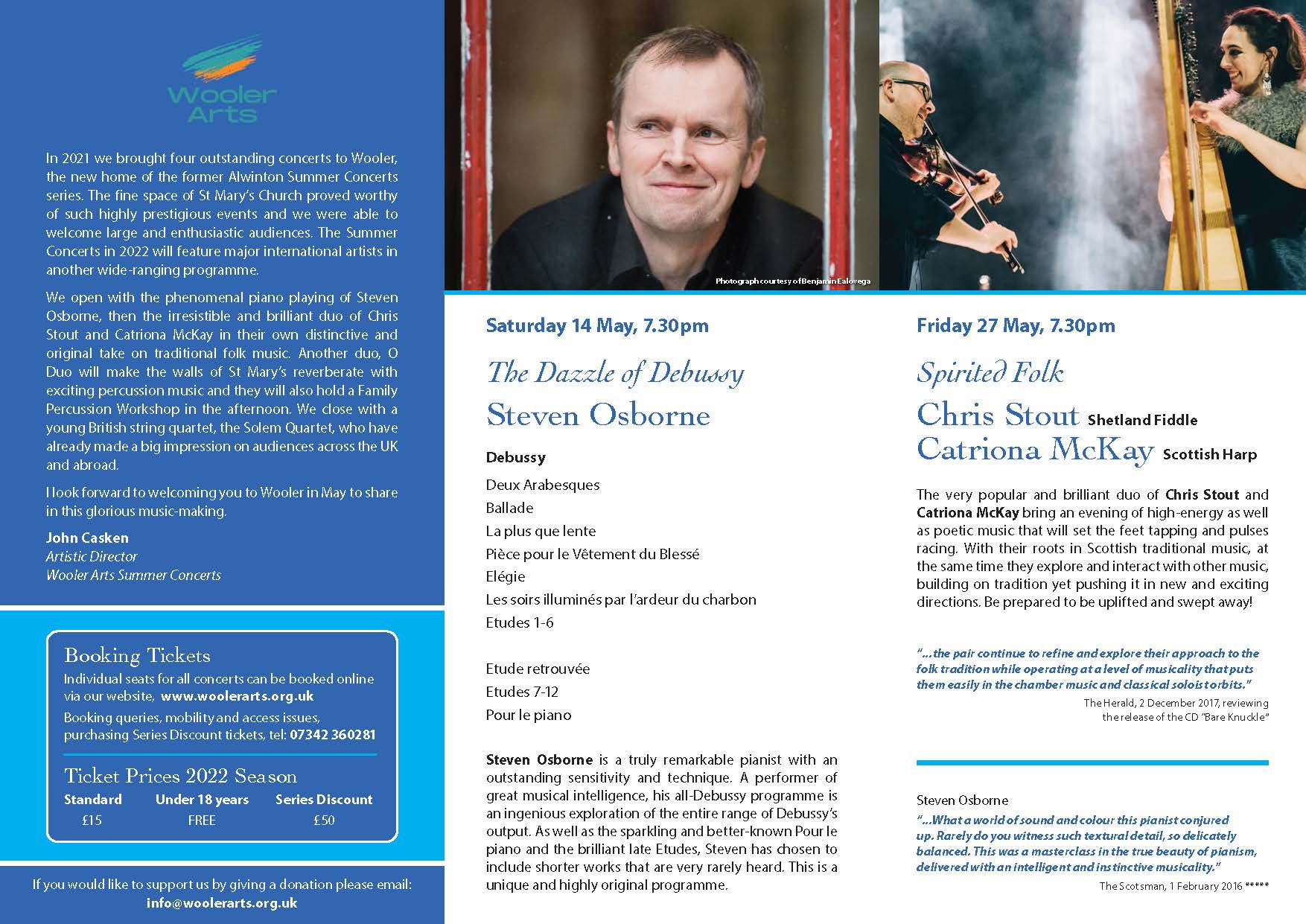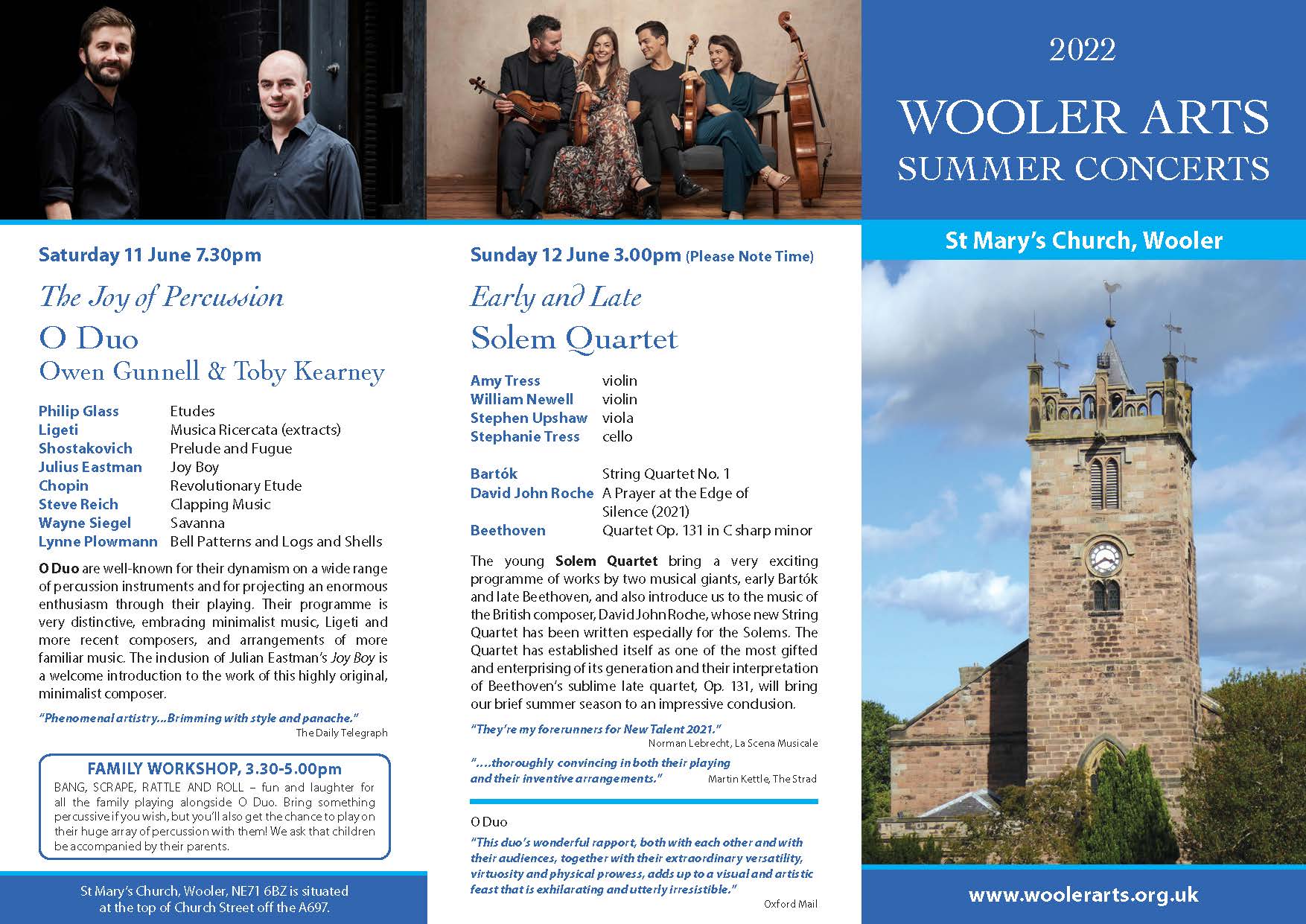 Summer Concerts 2022 Audience Feedback & Comments
- Steven Osborne (all-Debussy concert)
"Excellent to have top musicians on our doorstep – thank you!"
"Very beautiful pieces – please have him back"
"Relaxed atmosphere"
"Excellent – thank you and congrats! Particularly appreciated Steven Osborne talking about the pieces. What a treat….lucky us!"
"Wonderful concert – lovely to see a variety of ages"
- Chris Stout and Catriona McKay
"Fabulous evening of really interesting music. Great venue and acoustic"
"Loved it – so much energy and passion"
"These guys are real stars"
- O Duo
Workshop:
"Brilliant"
"Amazing, so well done"
"Huge fun!"
Concert:
"So lucky to have such a wonderful series in Wooler. Thank you!"
"Beautiful!"
"Very enjoyable. Very pleased to find a local concert whilst on hols"
"Absolutely fantastic! One of the best things we've seen in a very long time. Bring them back!"
- Solem Quartet
"Excellent"
"Very much enjoyed the concert"
"Excellent value"
"Surprised how much I enjoyed their challenging programme"
"They knock other quartets into the long grass"